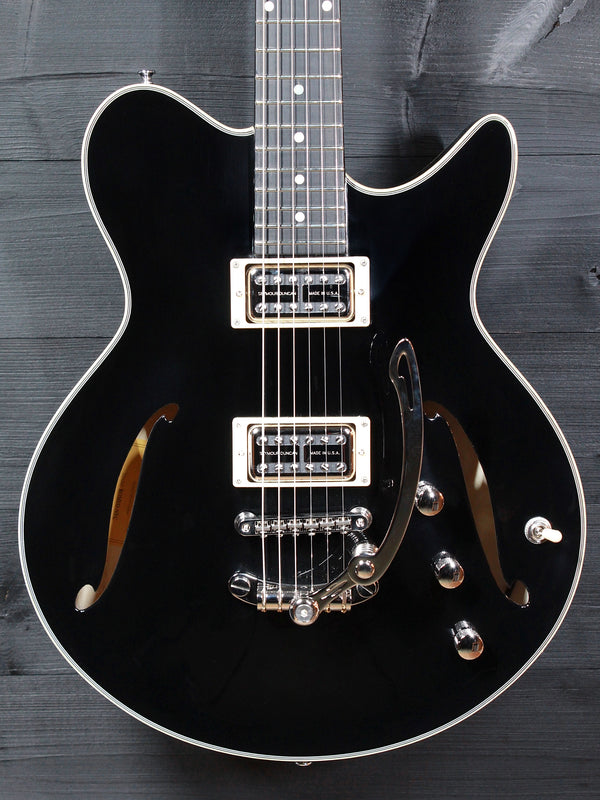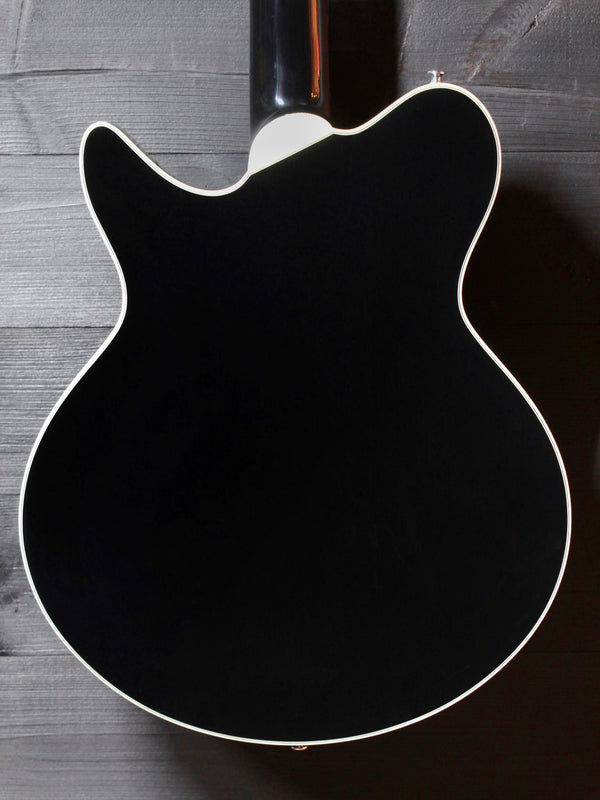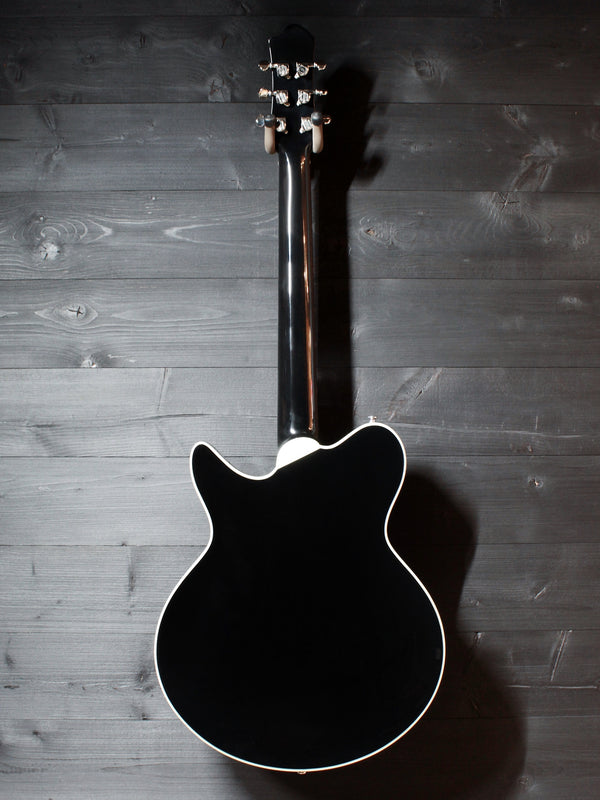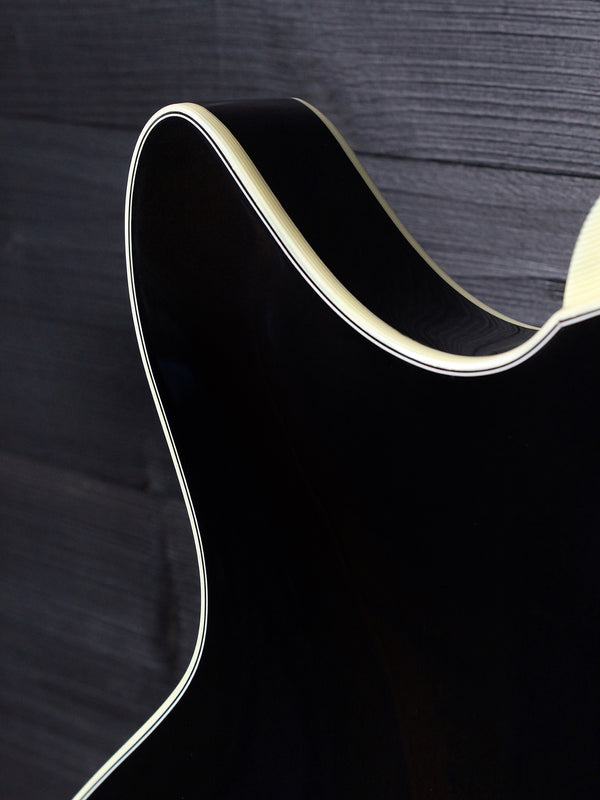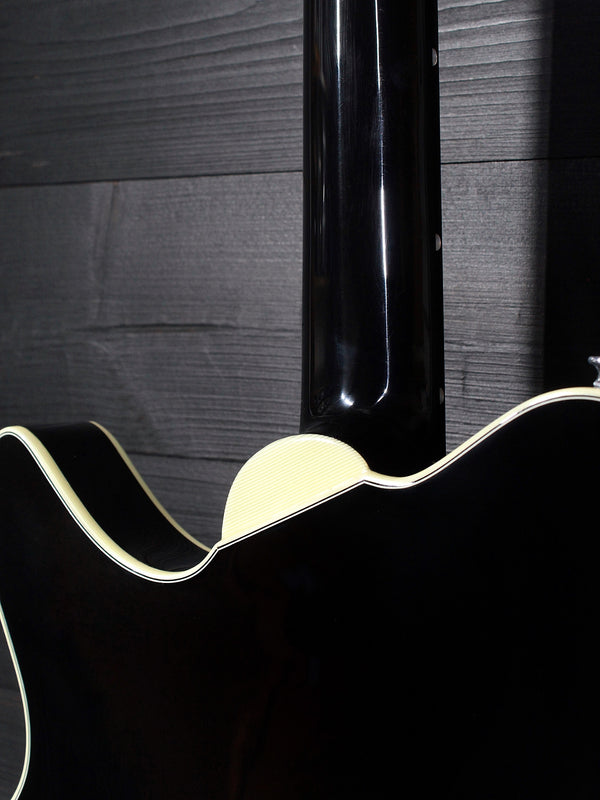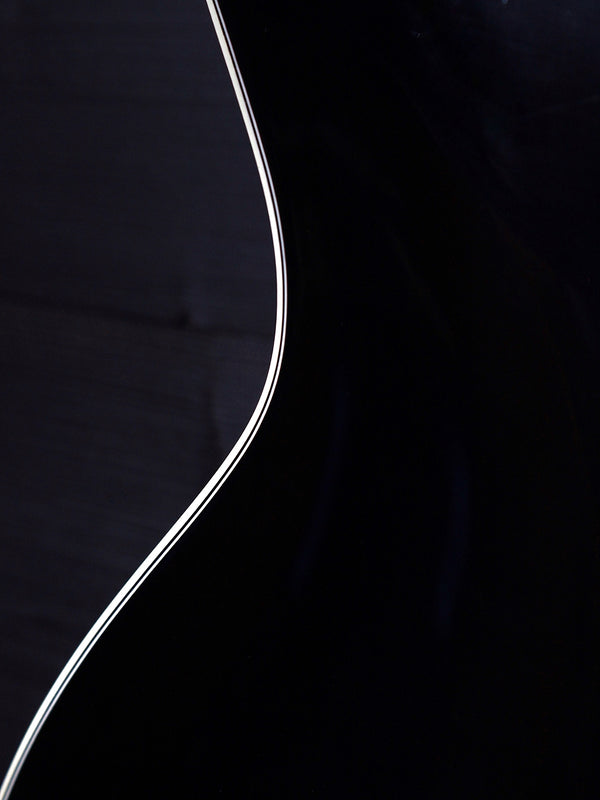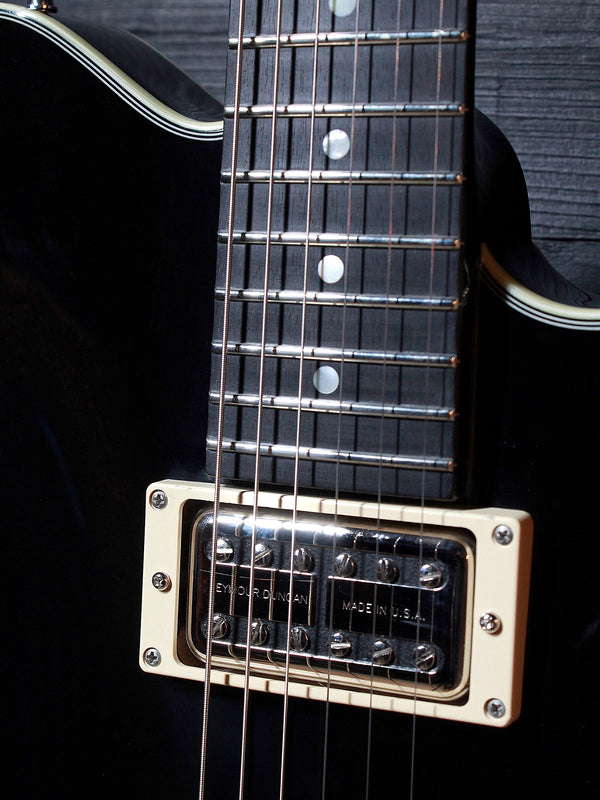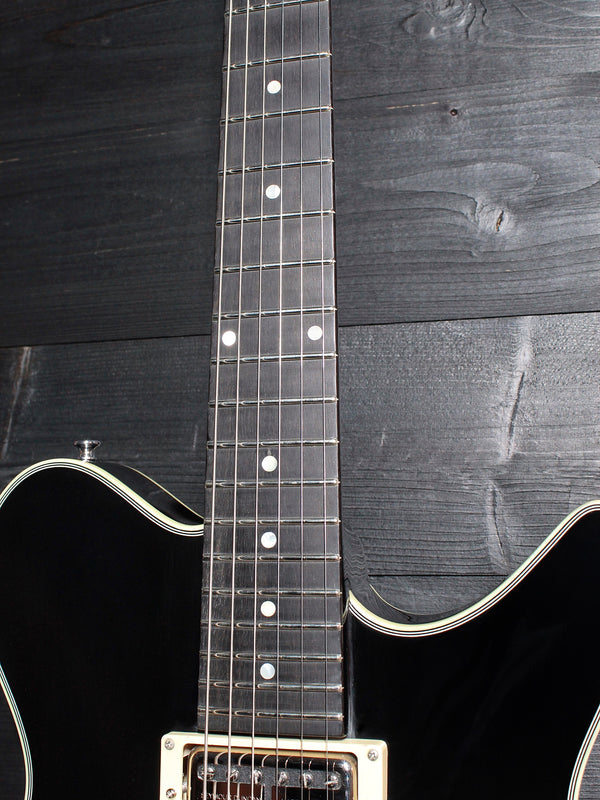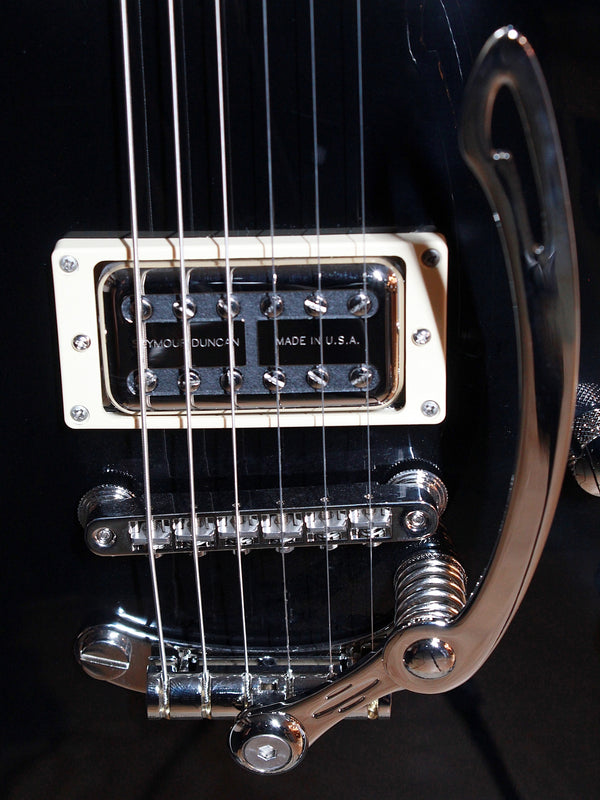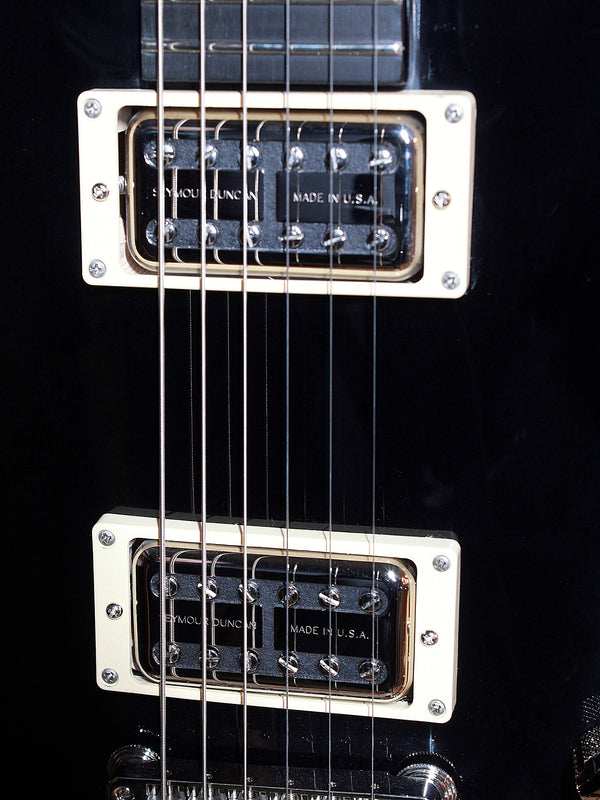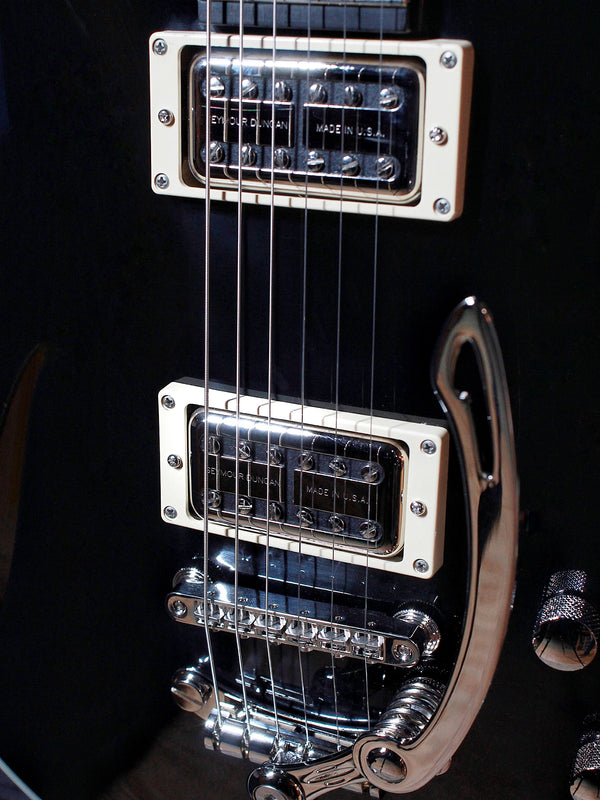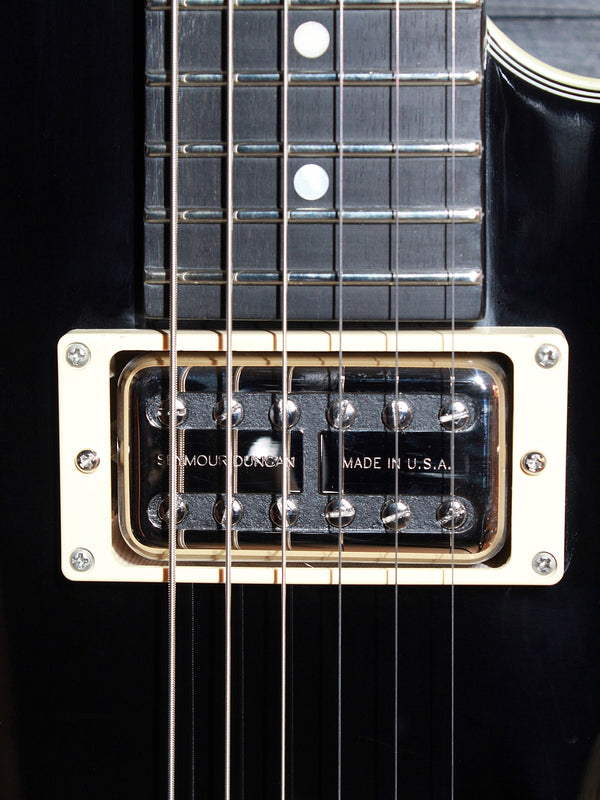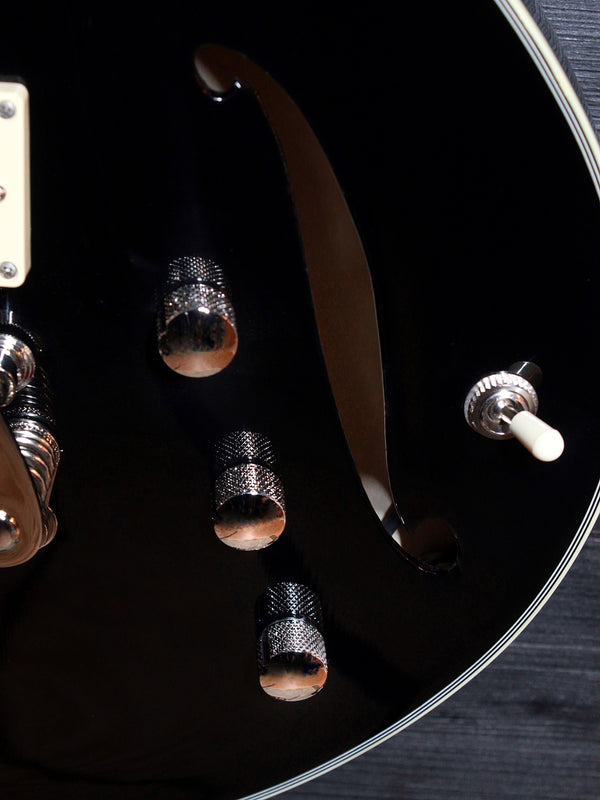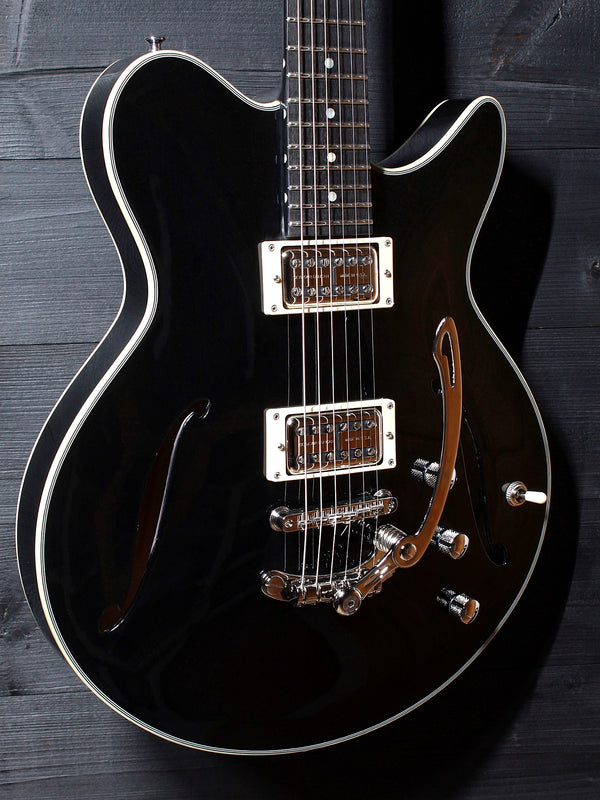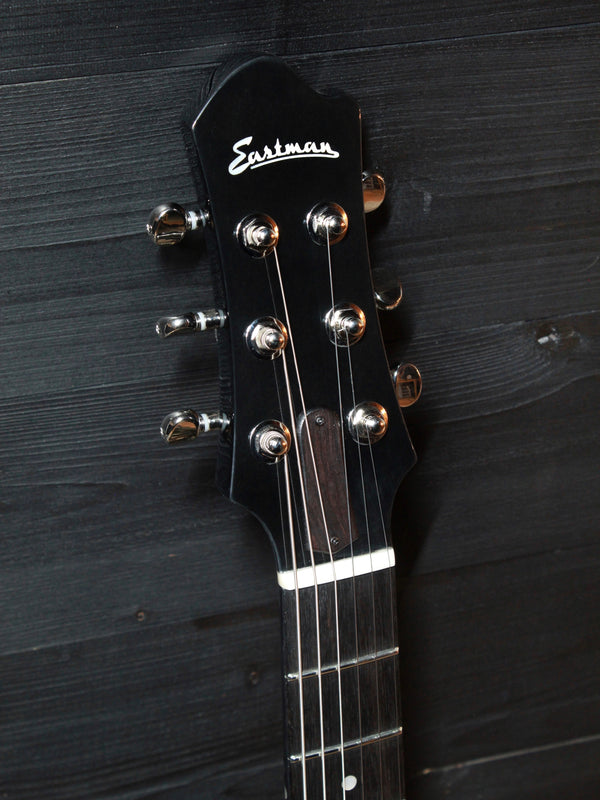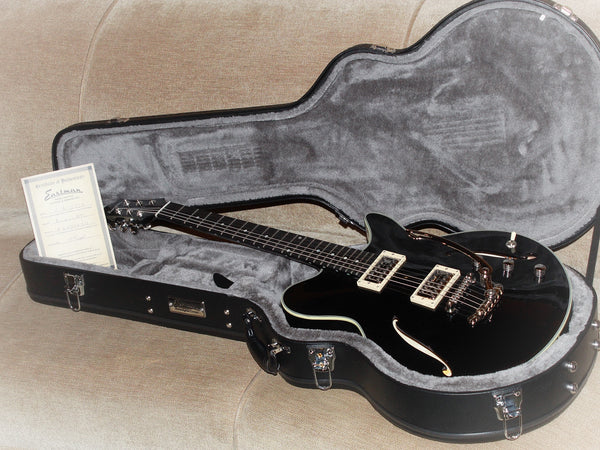 Eastman Romeo NYC Black w/ Göldo Trem
Eastman Romeo NYC Black w/ Hardshell Case 
Tobias Music - Chicago Area's Finest Guitars 
Proud of our 15 Year Partnership with Eastman Guitars
A new addition to the desirable Eastman electric guitar line-up. The ultra-cool Romeo NYC in a stunning Gloss Black finish. 
The Romeo NYC may offer a lot of flash and pizazz, but it sounds and feels as good as it looks. Thoughtful hardware decisions make it feel like a hot rod. But while it definitely rocks, it's suited for many mellower playing styles. 
The slick finish isn't the only thing primed for hot stage lights. Two Seymour Duncan Psyclone Filter'tron pickups for full-throated snap and twang. Perfect for Blues, Country and full-on Rock and Roll. Double-thickness Alnico V bar magnets delivering vintage output for period-correct tone.
And a Göldo Les Trem and 3-point bridge look sharp and enhance the Romeo's tonal personality and expressive abilities. Göldo K-Line locking tuners help keep the guitar pitch stable. This is one HOT guitar.
Romeo NYC'c signature design is a perfect fit for a tremolo system, and the Göldo Les Trem is a match made in heaven for both function and tone. Paired with the Göldo 3-Point Vario "moving" bridge this set up allows for maximum articulation, sustain, and resonance. Göldo K-Line back locking tuners further enhance this precision so your tuning will hold strong and re-stringing will be a breeze.
As an innovative, modern day thinline, Romeo NY  brings its glossy black finish center stage with a calming hue that evokes the classic rock of the city it calls home - New York City . Beneath this finish is a laminate top, back, and sides further expanding upon Romeo's lightweight design and unique tonal palette.
Neck Material:  

Maple

Fingerboard:  

Ebony

Fingerboard Radius:  

12"

Nut:  

Bone 1.72"

Nut Height:  

.022"

Fretwire:  

Jescar FFW47104-P

Scale Length:  

24.75"

Body Dimensions:  

14.75" x 1.75"

Body Top:  

Spruce Laminate

Body Back/Sides:  

Mahogany Laminate

Truss Rod:  

Single Acting

Binding:  

Top and Back

Binding Material:  

Ivoroid

Logo:  

Pearl Headstock

Inlay:  

Pearl Dots

Side Dot Color:  

Pearl Half Circle

Finish: Truetone 

Gloss Finish

Hardware Color:  

Nickel

Pickguard:  

None

Tailpiece:  

Göldo TLT2N Tremolo

Bridge:  

Göldo-3-point-vario-bridge HW2GN

Tuners:  

Göldo MGDBL33N Back Locking Tuners

Knobs:  Nickel 

Speed Knobs

Strap Peg:  

Gotoh EP-A1

Neck Pickup:  

Seymour Duncan Psyclone Filter'tron

Bridge Pickup:  

Seymour Duncan Psyclone Filter'tron

Pickup Height:  

3/32"

Pickup Frame:  

Creme Plastic

3 Way Switch:  

Göldo EL002

Capacitors:  

Sky MC473 .047mf

Potentiometers:  

CTS 500K AudioTaper

Output Jack:  

Switchcraft L11

Pickup Wiring:  

Gavitt Braided Wire

Strings:  

D'Addario NYXL .011 - .049

Case:  

Hardshell Case

Product Code - P2301630