Tobias Music Events Room
With the recent purchase of our building, we were able to renovate the adjacent space into a beautiful multi-purpose room with seating capacity up to 70 people. The room is complete with stage and sound system and tables (if needed). This warm and inviting room is perfect for our in-store events, including manufacturers / supplier demos, professional musical clinics and workshops. We are also able to showcase the wonderful talents of our close friends of Tobias Music.
Upcoming Events
We will continue to add events and showcases to our calendar. Help us "get the word out" about our "LIVE" events. This room may also be available for rental. Certain restrictions may apply. We have held many private events in the new room. Please contact us for more information on event room rentals.
Please check back regularly!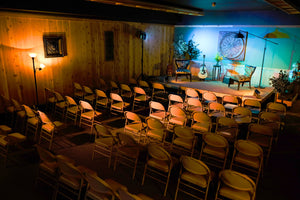 Check back soon for updates!
More Shows Coming Soon